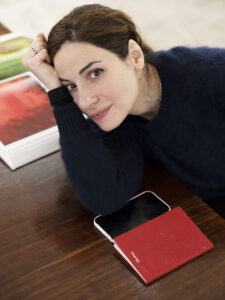 Photograph by Philipp Keel 2022, Zurich Switzerland
Copyrights Studio Philipp Keel 2022
BIOGRAPHY
Taline Temizian, Armenian-British artist (b. 1978,California- USA) lives and works between Belgium & London.
With practicable, philosophical and conceptual backdrops, her main interest is the Human subject from the scientific point of view specifically that of Cardiology and Neuroscience, MEMORY being at its' center.
Coding & maths being major influences in the way of perceiving and expressing most complex emotions.
Her work is not defined by any single media use but IDEA being the main decider.
With backgrounds in both traditional fine art as well as digital technology she explores systems and signs through complex processes to develop a new "Language" that cross-sections the interplay between personal language, narrative, anthropology, futurism, transhumanism and cultural history.
With diverse academic background, her research and learning process are continuous.
Her work is featured in solo, collaborations and group shows, curated collective projects including Venice Biennale side projects, London Q Parks & galleries, Berlin, Montreal, Basel, Paris, Yerevan, Zagreb, New York, Oaxaca, Tallinn, Brussels & Beirut.
Her work is held internationally in private and public collections.
STATEMENT
Taline Temizian takes a transhumanist perspective on memory and trauma by investigating how neurological activity contributes to lived experience and how artists can change the way we see and better this perception in pursuit of happiness.
Temizian works to depict a "Place of memory" situated between Parallel universes and RL (Real Life), manifesting complex networks comprised of scientific methodologies, conceptual discourse and personal narrative. Employing multiple processes and media, presenting raw yet technically intricate objects and installations that produce bold sensory and emotional experiences. Interrogating the state we are in & deconstructing her post-humanist self to replace it with the transhumanist promise of eternal and idyllic life through science and technology, Temizian applies a poet's touch to these vocabularies in order to reformat connections and neural pathways between personal history, physical and metaphysical conceptions of humanity.
Based in London, with projects in Brussels, Berlin, Zurich and Paris and more she collaborates with philosophers, scientists, composers, technologists and filmmakers in pursuit of a self-promised "utopia" where "I can regain the lost Time and space."
"My process is physical, conceptual in many directions including reverse thinking based on a Quantum Time-Lapse, I constantly observe the brain and memory movies triggered by the surrounding or by internal triggers, catch the right elements then construct or deconstruct things or just place them in existing systems, or invent a totally new system that transforms into the artistic output.
By Ory Dessau – 2018
GROUP SHOWS
08.2021 – 10.2021 – PASS Belgium – Curated by Jan Hoet Jr & Kris Martin https://www.pass2021.be
06.2021 – 07.2021 Group NFT show at CRYPTOKYO 2021 UltraSuperNew Gallery – Toyko
03.2020 – 06.2020 / Group show – AQUADROM II – Galerie Rheinart- Neuhausen, Switzerland
10.2019- FONDATION THALIE – Habiter L'Intime (24 Oct- 07 Dec). Work presented by collector Frederic De Goldschmidt.
02.2019 –MACO– Museum Group show-" EMPIRE II in Oaxaca In Association with the Museo de Arte Contemporáneo de Oaxaca" . http://www.empire2.info
12.06.2018 EMPIRE II . Tallinn- Estonia – PLAYING GOD. Photography & Film installations. Curated by Vanya Balogh
15.10.2018 EMPIRE collective projects at the Q Park- CHAIRS – curated by Vanya Balogh
27.04.2018 BOZAR Lab – A.I. BETWEEN HUMOUR, FEAR & UTOPIA . When art meets science.. PAVILIONS OF MEMORY – Practicable installation.
2018- 15 March INTERSECTIONS – A.I. – Between Humour, Fear & Utopia Installation-Exhibition- GLUON , BOZAR, CCA Montreal- Canada
2017 – 9 Sept – 5 Nov  HOME – Ifa Gallery Brussels , Belgium
2017-15 September- EMPIRE II "Exhale" – Provincial Project Space – Kendall-Cumbria
2017  -9 May – Ongoing – EMPIRE II "Exhale" – Side Project at VENICE BIENNALE 2017, and Alberoni Beach – Venice,Italy
2017  -18 April- EMPIRE II – "Exhale" – Collective Group screening project in association with Frederic De Goldschmidt & John Adams. Brussels, Belgium.
2017 – 15 October- EMPIRE II – "Exhale"- Spektrum , Berlin, Germany
2017 January – "SPACE" – Q PARK SHOWS – Collective group show curated by Vanya Balogh & Cedric Christie
Showcasing an installation and projection film.
2016 – February– CHINESE OPEN – YEAR OF THE ROOSTER – Q Park London. Curated by Vanya Balogh, in association with Geoff Leong Foundation.
2016 –14-17 September. WOP ART Fair ,Contini Gallery booth- Lugano, Ticino, Switzerland.
2016 – October 13 – AN INFINITELY BEAUTIFUL MIND.
Showcasing the BLUE BRAIN SERIES –The Networks Project- During Frieze Art Fair London.
2016-  HASSFEST – HEARING ART SEEING SOUND Art & Music Festival – Yerevan. Armenia.
The Contemporary Art Centre in Yerevan. The pieces joined the New Museum of Contemporary Art in Yerevan.
2015 May – THE FALL OF THE REBEL ANGELS during THE VENICE BIENNALE. Show curated by Vanya Balogh. Showcasing:" I Love You Because You Changed My Face".
2015 22 February CHINESE OPEN – YEAR OF THE SHEEP- BIG DEAL SHOWS- Q PARK – China Town, London, UK. Curated by Vanya Balogh. In association with Geoff Leung Foundation.
2014 LOVE HOUR , Basel Historical Museum – Basel, Switzerland.
The Deli Projects- Curated by Benedikt Wyss.
Showcasing "Needle & Damage Done"
2014 MUSEUM OF BROKEN RELATIONSHIPS – Zagreb, Croatia,
Joined the permanent collection of  the Museum of Broken Relationships- Zagreb.
2014 BIG DEAL- MARVELLOUS MIX-UPS – BIG DEAL COLLECTIVE SHOWS – London. Curated by Vanya Balogh & Danny Pockets. Showcasing "Camp Delta" & a series about Crimes against humanity.
2014 –  Maastricht – During Tefaf- at Smart For Art gallery, curated by Martin Summers
2008- Ongoing – Fine Jewellery collaborations with Bentley & Skinner, London
2009-Ongoing – Private fine jewellery design/commissioned projects for royal collections
2011 WOMEN'S ART FESTIVAL – Shibanni church-castle- Aleppo/Syria
2005 – White Space gallery- Greenwich- London
DUO SHOW
2022 – September – Collaboration with Sven Helbig for the Dusseldorf solo show ,Germany
2016 – November – "SILENT WAR"  – THE JAVA PROJECTS- Brooklyn, New York, USA
with Tsibi Geva
2014 – Selection Fair During Art Basel – Basel, Switzerland– Duo show at Smart For Art gallery booth
PAST, CURRENT
 & UPCOMING PROJECTS
07.2022 – NFT artist represented by WISE ART Switzerland
04.2022- Project WOW presentation- WOW 1 Film screening on the Hybrid Tower Mestre as side project during the vernissage of the 59th edition of the Venice Biennale, powered by Hiperfuture architects, Venice, Paris, London.
05.2022- Production of Concomitant Variant- Inflatable I- New Media
interactive installation for a private collection- Germany. In partnership with Gluon & a large team of professionals in Belgium & the UK.
04.2021- DERIVE – Film project for the SPITZER school of architecture New York.
A collaborative film with sound artist Doug Haywood. Filmed at BOZAR- Brussels.
11.2020 – Concomitant Variant project –collector vs artist with GLUON Foundation Belgium
11.2020- Centerfold magazine publishing project with GF Smith & Andrew G.Hobbs studio
10.2020 – SEISME Magazine – Issue 1- Neuroscience – Featured "Knowing Me Knowing Me"
09.2020 – Kunsmagazine –Art featured as Editorial
FUTUREHERE – Florence June 2019 Workshops, projects & Incubator of art and technology
SOLO SHOWS
02.2021 – Blockchain Art Exchange  – NFT Launch, Auction & Sales at BAE Tokyo
08.2020 –14.01.2022 Art Show at Child&Child HQ London
04.2019 – NETWORKING SERENDIPITIES at Paul Smith – London. Curated by Sascha Bailey.
With collaborative Green-Screen installation with Paul Mason.
2018 – 2017
"PICTURES AT AN EXHIBITION – A Retrospective" – Brussels – Empowered by Henri Vandekerckhove gallery –
2017 – Solo Presentation – in a Berlin Private Collection
2017 – TRANSCEND – La Fontaine, Contemporary Art Centre- Bahrain
2016 SYSTEMS & NETWORKS – Sketch – London. Site-specific Neon & kinetic installations.
2015 EAT MY HEART-  Carousel Projects – London
2015 Amnesty International Installation-  Installation & project space at the London HQ for the Centenary of The Armenian Genocide.
2014 THE CARDIAC SHOW- House-Project space-Lowndes square
2013 CARDIAC SERIES – Beirut- Project Space
2012 THE LOVE COLLECTION – Artist as jeweller- in collaboration with Bentley & Skinner
2007 KENSINGTON GARDENS – Art & Couture project
OTHER – Upcoming
STARTS & New European Bauhaus – project coming soon
09.2022 – Upcoming solo show and digital performance project at Felix Ringel Galerie, Dusseldorf, Germany . Curated by Azad Asifovich, collaboration with Sven Helbig, text by Marcus Steinweg.
07.2022 – To be Featured in "People at Art" by Philipp Keel, Steidl Verlag
Collaborations with curators Ory Dessau – PAST TOMORROWS Project ,
With Sven Helbig, Marcus Steinweg, Philipp Keel, Max Seeger, Nick Rothwell.
11.2021 Concomitant Variants , An ongoing New Media project featuring the Digital
Portrait of Collectors and the artist in the aim of immortalising them.
Represented by Felix Ringel Galerie, Dusseldorf, Germany